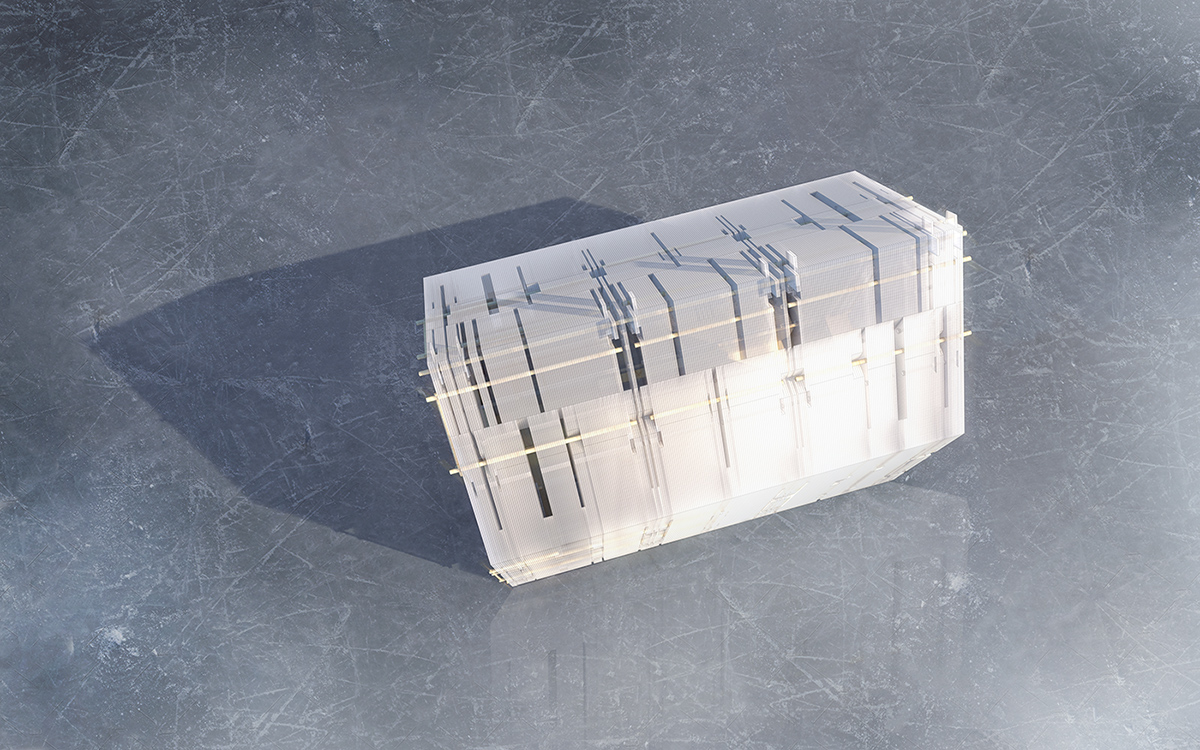 Polyhut
Winnepeg, Canada
2013
POLYHUT
was a site-specific proposal for the annual
Warming Huts Competition
on the Assinioboine River in Winnepeg, Canada. My scheme explored a dialogue between two seemingly disparate topics: offsite construction (prefab) and site specificity.
The installation consists of 300+
CNC-milled
multi-wall
polycarbonate panels
(8 unique) sandwiched together by a system of dowel rod friction connections (also 8 unique) that weave and intersect strategically throughout the assembly.
The combination of laminated translucent panels, intersecting dowels and the play of light create a visual and tactile experience. Panels conceal the skid platform below to make the installation appear to be floating and as an extension of the
frozen riverscape
. At each exterior corner of the structure, dowels extend and connect to form handles that provide a steady grip for approaching ice-skaters. Users enter the fully translucent interior by climbing through a 5' tall opening. Inside, occupants are huddled together low to the ground, sitting or lying on exposed polycarbonate benches. Systematically missing or altered panels provide visibility of the structural elements, passing ice-skaters and to the landscape beyond. Meanwhile, the 9" thick walls and perforated 10'-0" tall vaulted ceiling provide a datum to track the ever-changing light conditions as it scatters throughout the structure.
POLYHUT
was a recipient of Honor Award for Unbuilt Architecture from the
AIA DC
.